SOPHIA
SOPHIA
Un gioco per lo ZX SPECTRUM 128K
(48K per utenti DivIDE/DivMMC con ESXDOS)
A game for the 128K ZX SPECTRUM
(48K for DivIDE/DivMMC with ESXDOS users)
Un juego para ZX SPECTRUM 128K
(48K para ususarios de DivIDE/DivMMC con ESXDOS)
Gioco e manuale in:
Game and manual in:
Juego y manual en:
ITALIANO - ENGLISH - FRANCAIS - DEUTSCH
ESPAÑOL - PORTUGUÊS - RUSSKIJ - SVENSKA
Disponibile su cassetta (inglese, solo 128K)
con un livello bonus esclusivo
da BITMAP SOFT
Available on cassette (English, 128K-only)
with an exclusive bonus level
from BITMAP SOFT
Disponible en cassette (inglés, solo 128K)
con un nivel bonus exclusivo
de BITMAP SOFT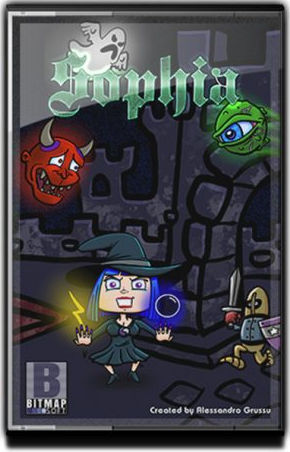 *** ITALIANO ***
L'Impero è in pericolo. Il malvagio stregone Yojar lo ha invaso con i suoi poteri magici e le truppe imperiali, per quanto valorose, non riescono a far fronte alla minaccia.
Solo la magia può battere la magia. La giovane Sophia, l'allieva più promettente dell'accademia di magia di Xixerella, si offre volontaria per liberare l'Impero dalla terribile presenza.
In tre zone diverse, dovrà combattere le pericolose manifestazioni del potere di Yojar e distruggere i teschi che agiscono da trasmettitori del potere dello stregone.
Solo dopo di ciò potrà entrare nella dimensione di Yojar e affrontarlo faccia a faccia.
Riuscirà a sconfiggerlo?
*** ENGLISH ***
The Empire is in danger. The evil sorcerer Yojar invaded it with his magical powers and the Imperial troops, however valiant, cannot cope with the threat.
Only magic can beat magic. The young Sophia, the most promising pupil of the Xixerella Magic Academy, volunteers to free the Empire from the terrible presence.
In three different zones, she will have to fight the dangerous manifestations of Yojar's power and destroy the skulls that act as beacons of the sorcerer's power.
Only after that will she be able to enter Yojar's dimension and confront him face to face.
Will she be able to defeat him?
*** ESPAÑOL ***
El Imperio está en peligro. El malvado hechicero Yojar lo ha invadido con sus poderes mágicos y las tropas imperiales, por valientes que sean, no pueden hacer frente a la amenaza.
Solo la magia puede vencer a la magia. La joven Sophia, la alumna más prometedora de la academia de magia de Xixerella, se ofrece voluntaria para liberar al Imperio de la terrible presencia.
En tres zonas diferentes, deberá luchar contra las peligrosas manifestaciones del poder de Yojar y destruir los cráneos que actúan como transmisores del poder del hechicero.
Solo después de eso podrá entrar en la dimensión de Yojar y enfrentarlo cara a cara.
¿Llegará a derrotarlo?
Download
Click download now to get access to the following files:
Sophia - Bonus Level
24 kB